*Hosted by The Tattered Page, Cover Mania! features covers that compel me*
Being so drawn to this cover, I felt compelled to dedicate a post to it. Take a look: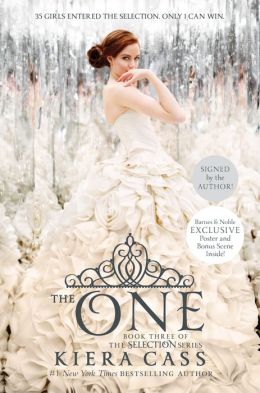 YES, DROOLING OVER THIS COVER IS PERMITTED.
I think it is the most stunning of the three covers for The Selection trilogy. Every time I see the cover for this book, I imagine charming princes and fairy tale wedding! Can you blame me? The One is most definitely in my to-be-read pile. I absolutely loved the first two books in Kiera Cass' The Selection trilogy so I am looking forward to the third and final book without a doubt.
Overview

:
The highly anticipated conclusion to Kiera Cass's #1 New York Times bestselling Selection series, The One will captivate readers who love dystopian YA fiction and fairy tales. The One is the perfect finale for fans who have followed America's whirlwind romance since it began—and a swoon-worthy read for teens who have devoured Veronica Roth's

Divergent

, Ally Condie's Matched, or Lauren Oliver's

Delirium

.
The Selection changed America Singer's life in ways she never could have imagined. Since she entered the competition to become the next princess of Illéa, America has struggled with her feelings for her first love, Aspen—and her growing attraction to Prince Maxon. Now she's made her choice . . . and she's prepared to fight for the future she wants.
Find out who America will choose in The One, the enchanting, beautifully romantic third book in the Selection series!
- via Barnes &Noble
Details:
Publisher: HarperCollins Publishers
Publication date: May 6, 2014
Pages: 336


***BONUS*** Kiera Cass reads from the first chapter of The One: HERE
Happy Reading!